Nail Polish Storage Ideas & Organization Solutions
Nail Polish Storage & Organization Ideas
Below I've gathered quite a few nail polish storage and organization ideas, with pictures, shared by readers.
This may seem a silly topic if you've just got one or two bottles of nail polish, but for some doing nails is a passion and they've got LOTS of bottles to deal with.
If that describes you I've got some great ideas below for how you can store everything, and find the polishes you want when you want them.
This organizational task is part of the Cosmetics & Makeup Organization Challenge on the site, so if you'd like inspiration for all your makeup and personal care products make sure you check it out.
Things To Consider Before Choosing A Storage Solutions
Things to keep in mind when deciding which storage solution is best for you include the following:
1) Do you want to display your polishes, or keep them out of public view? Some people are quite proud of their collections, so putting them on a counter or mounting a rack on the wall sounds great. For others this would feel like an eye sore.
2) Consider how big your collection is now, and how big it will be in the future. Obviously, using an organizing product that only holds some of your collection will not fit the bill.
3) Do you want the polishes to be portable? Do you always do your nails at your own home, or do you take your polishes to other locations? A wall rack won't work for someone who needs to carry them polishes around, but in that situation an organizing case with a handle may be better.
4) What brands of nail polish do you favor? There is no standard size for nail polish bottles and each brand has their own signature size and shape. When considering
which type of organizer to use you've got to think about both the height of your bottles, as well as their width.
Some of the most difficult bottles to accommodate include for the brands OPI, Essie, Butter, and China Glaze. Just keep that in mind and make sure what you choose will fit your preferred brands. Nothing is worse than getting something that is just a bit too small for the bottles you use regularly.
What's The Shelf Life Of Nail Polish?
Anyone with a big nail polish collection has had some of those polishes for years and years. That's because practically it takes a LONG time to use up a bottle of lacquer, top or base coat, etc. if you've got lots of different ones to choose from.
So really, the best thing to do is just focus on whether the polish looks and feels right as its applied. Older polishes past their prime tend to get clumpy and its much harder to apply an even coat.
If shaking doesn't allow a remixing of the ingredients and it remains clumpy it is practically time to throw it out.
As long as you keep your polishes in a temperature controlled environment (don't let them get too hot, for example) and out of direct sunlight though, they should theoretically last for a long time.
So now, without further ado, check out these cool storage solutions you might like to use for your own collection! And don't forget, if you've organized or displayed your own polishes I'd love to see how you do it. You can click here to submit your photos and I'll add them to the page.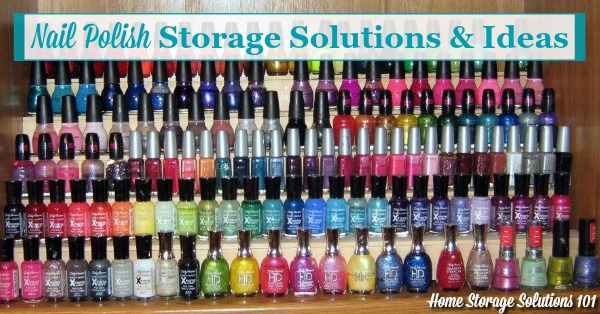 Top photo courtesy of Lelê Breveglieri
Organizing Nail Polishes In Drawer Using Drawer Organizer
by Josie
Josie shared this picture of how she organizes her collection.
She did not want to display it, but instead wanted to keep it concealed in a bathroom drawer.
So, to keep all the bottles from getting jumbled she added a drawer organizer, which had several dividers.
To accomplish something similar you could perhaps use a silverware organizer, or you could customize the size of your dividers yourself if you used drawer dividers.
***Update: I also got this really good tip from another reader, for easily finding the color you want when you've got them stored in a drawer, and can only see the tops of the bottle easily. She said:
You can use color dots made with the actual nail polish to mark the top of the bottles if you have drawer storage setup. This makes it faster to find the color you are looking for since you won't have to lift each bottle out of the drawer to see it's color.
***End update
Consider A Wall Nail Polish Rack For Large Collections
by Joanne
A reader, Joanne, shared this picture above of her very impressive collection.
As you can see she uses a very large wall mounted rack to hold all of her polishes. She actually made this rack herself!!!
Obviously, if you mount something on the wall it will be a display feature in the room, but if you are proud of the collection there's no reason not to show it off, right?
Here's another example, this time of a metal rack:
Metal Wall Mounted Rack, Fits Up To 100 Bottles
Click here to purchase on Amazon.com
Second photo courtesy of Lauren J. via Amazon.com
Acrylic Nail Polish Wall Racks Are Affordable
I showed a couple of racks above that can be placed on your wall.
The ones above were wood and metal. Another popular choice are acrylic racks.
These are quite popular products on Amazon that many people have purchased for storing their large nail polish collections.
90 Bottle Nail Polish Rack
Click here to purchase on Amazon.com
These racks work well for a very large collection. The ones pictured above hold between 90 and 96 bottles.
Below are more to choose from:
First photo courtesy of Kate Bryant via Amazon.com, and second photo courtesy of R. Miller via Amazon.com
Nail Polish Display Wall Rack Using Spice Racks
by Stacey
Stacey says:
I purchased these Grayline cabinet racks from Amazon. The one the nail polish is holding is actually a spice rack so I figured it would hold the nail polish the way a salon displays polish and it does perfectly but less expensive than a real polish rack.
I normally don't like to have stuff displayed openly but we have 3 teen girls that love to do their nails so having a small nail station in my office works out great for us.
My daughters and I enjoy doing our nails and always had them stored away neatly but one day while at the salon I got the idea of dedicating one area of my "girl cave" as our own lil nail salon they are now above a lil nail table.
The other rack holds all of my other nail supplies keeping everything together and being in my office still keeps it out of the way and still pretty much out of sight, kind of like a dedicated nail salon area.
Also once I am done redecorating my entire office it will all tie in with the "style" as well since this is just a small area.
If anyone else wanted to do this but didn't have the same space or just didn't want to see it hanging on the wall as I have it, it could also be hung inside a cabinet or inside a closet.
It doesn't necessarily have to be hung directly on a wall, it's just how we chose to do it.
Hanging Jewelry Organizer For Nail Polishes Does The Trick
by Shawna
I used a hanging jewelry organizer.
One side is all my polishes and the other side is all my removers, files, clippers, stamps and other nail tools.
I love it and it is so convenient. I can move it where ever!
When my gal friends come over I move it and hook it on the kitchen cabinet next to the dining room table and we all sit there and paint!!
***Update: Another reader, Lori, suggested a similar method that she uses, but that works when you've got a smaller collection. She said:
I use a hanging bathroom travel organizer. That way, you can hang it or travel with it.
***End Update
First photo courtesy of LaPana via Amazon.com and second photo courtesy of bailey via Amazon.com
Portable Nail Polish Storage Case With Handles
If you need to move your polishes around a rack or countertop organizer will not work well for you.
However, they've got several different ways to organize these for the go as well.
The picture above shows clear drawers, which may work well for you. But remember, when you pick them up to move them they will slide around and you definitely don't want them to break.
So, ideally the case you choose will have compartments which allow you to carry everything around without moving too much, such as shown below.
Nail Polish Organizer Case
Click here to purchase on Amazon.com
Here are some examples of cases available through Amazon:
Note: When choosing a case like this it is especially important to make sure that neither height nor width of the bottles will become a problem with your chosen container.
Definitely look at the reviews for your preferred polish brands and make sure that the brand's bottles fit easily in the slots or you'll be disappointed in what you choose.
First photo courtesy of Lelê Breveglieri, and second photo courtesy of Jessica via Amazon.com
Tiered Counter Nail Polish Organizer
Here's a good solution if you want to keep your polishes on a counter, but have only a medium-ish sized collection — a tiered organizer.
It helps you see all your bottles, and grab what you want a lot more easily than some of the bowl ideas shown below.
This particular one pictured above holds up to 60 bottles, and is advertised to hold some of the more difficult to fit brands, such as OPI, Essie and China Glaze.
Here are some additional ones to choose from:
If you've got an even bigger collection, a stair step shelf may just be the thing for you. Here's a picture of one that a reader, Niki, had her husband build for her. Look at her collection, it's amazing!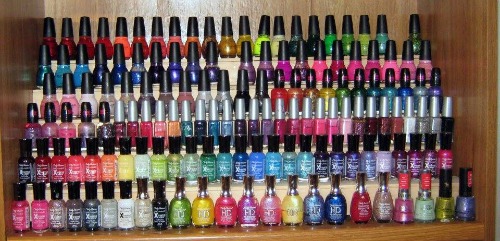 Niki says: "I do a lot of crafts with nail polish. My husband made a wooden stair step shelf to fit within a shelf on a bookshelf for me."
First photo courtesy of jpLI via Amazon.com
Ikea Helmer Drawer For Serious Nail Polish Collectors
by HSS101 Reader
If you're serious about polish you already know what I'm talking about. The Helmer is a five drawer metal cabinet used by nail fanatics to store nail polish.
They're sold at IKEA and come in different colors.
Keep All Your Manicure Supplies Together In A Basket
by Jacqui
This photo was sent in by a reader, Jacqui, who explained, "I recently moved and organized my bathroom. Here is all my manicure supplies in one basket in my bathroom closet."
For A Smaller Collection Why Not Try A Vase On A Counter?
by Danielle
A reader, Danielle, sent in this picture sharing how she and her young daughter stored their polishes.
Danielle said, "We take the jar and dump it out on an old sheet after bath time. My daughter likes sparkles."
If the polishes you use aren't expensive and high quality, like some of these high-end name brands, but just fun stuff for you and your daughters to use, then this might just fit the bill!
Ikea spice racks would also work
by: Dalziel
I really like the IKEA spice racks for stuff like this. I mounted one on my bathroom wall and because the sides are closed, nothing falls out.
clear shoe box
by: Cynthia
I keep all mine in a clear shoebox-sized container with a lid, sorted by season. But I can't stand having things "out."
Caboodle
by: Jennifer
We have them in boxes and an old caboodle.
Plastic box that fits polishes and fits inside drawer
by: Amanda
I use a plastic rectangular tray/box from Kmart. Just get a size that fits your polishes and also into your drawer. I don't like stuff left out. We just grab the box of nail polishes/nail tools and take it to where we are painting our nails (inside or outside), everything we need is in there and its packed up and dropped back in its place when we are finished. My girls often paint their nails every day or two. LOL
basket under bathroom sink
by: Alison
I use a basket under the sink. Just take it out when doing nails. I couldn't stand to have them out like that.
I use a plastic tool box
by: Karla
I took one of my husband's old plastic tool boxes, at the top of the lid there is a see through compartment in which I keep all the nail files, orange stocks, etc. and in the bottom I keep all my polishes, etc. Love it!
what to do if nail polish too thick
by: Bel
As polish ages it sometimes gets thicker. What the salons do is squeeze a few drops of polish remover into the bottle and shake. Now it's the right consistency again. If not add a few drops more until it is.
Tips
by: Jessica
Don't throw out goopy polish! Or add polish remover to it (it'll work fine at first, but then degrade over time). Head to a beauty supply store and pick up nail polish thinner for a few dollars. It will last you forever and saves you from throwing out those polishes.
Also IKEA sells something called a Helmer which many people use to store their polish. Michael's has scrap booking storage containers that are great for polish and affectionately nicknamed Melmers.
what I use
by: Mary
I use a 2 sided box that used to hold my son's match box cars.
old nick nack shelves
by: Monica
I've been scooping up old nick nack shelves and spray painting them. I have a fun lime green color going in my nail area and they are shallow enough that I can see everything.
Plastic Tool Box
by: Wendy
I also use a plastic tool box. It has a tray on the inside for all files, clippers, etc. It fits perfect in one of my bathroom cabinets and is easy to take wherever I want, and holds a lot of polish bottles.
Store in refrigerator
by: Anonymous
I find my polish doesn't get thick or clumpy when I store them in my fridge. I keep the bottles in a plastic storage container and try to keep it to 20 bottles or less.
nails on the go
by: Anonymous
My daughters and I have a basket of nail polish. We frequently like to take it into different rooms of the house, or even outside on nice days, to do our nails. We toss any that start to get too thick and sticky.
Really useful box brand …
by: Anonymous
I prefer the really useful box, sized for size ten envelopes available at office stores and online. They are so strong, the perfect shape and stack easily.
No more clumpy polish
by: MK
Two tips:
For those of you who hang on a little too long to a favorite, but seasonal, polish (Halloween glow in the dark, Incredibly bright Christmas Glitter Red, Easter pastels) you can keep them from separating and getting gross by occasionally adding a drop or two of polish thinner (NOT acetone or remover). Also, with the large collections in these photos, shaking ALL the bottles once a week is how manicurist schools instruct to keep them mixed.
Tackle box
by: Anonymous
I use a large tackle box to store my polishes and polish goodies. A lot of them come with individual plastic containers that have individual dividers that can be adjusted according to bottle size. I just love it. And its mobile!
use vintage purses and spice racks
by: Lori Maez
I love to use my vintage purses, I put pinks in one, reds in another, etc… along with the matching lipsticks. It's easier to match up to complete your look. Spice racks are also great for your patterned polishes – stars, glitter, the unusual colors – pretty accent to a wall!
Source
https://www.home-storage-solutions-101.com/nail-polish-storage.html?utm_source=feedburner&utm_medium=feed&utm_campaign=Feed%3A+HomeStorageSolutionsBlog+%28Home+Storage+Solutions+Blog%29