Prince Harry and Meghan Markle Wedding Manicure
You Knew It Was Coming: Nail Art of Meghan and Harry from the Royal Wedding
I don't know whether they should feel delighted, horrified, or a combination of both.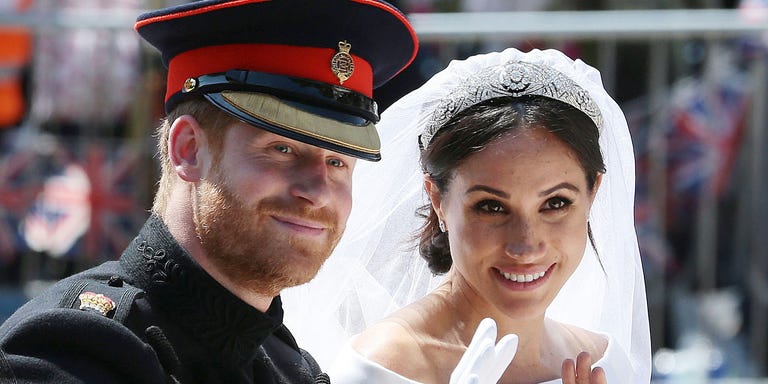 OK, you might be tired of all the news surrounding Meghan Markle and Prince Harry's royal wedding that took place on Saturday, but hear me out. The two had a gorgeous ceremony at St. George's Chapel where thousands of people descended upon the town of Windsor to catch a glimpse of the newlyweds and wish them well. It was true love and freaking inspirational.
Nail artist and Instagram user @nail_sunny clearly took her inspiration to a whole new level with this creepy (but kind of endearing?) royal manicure, in which mini Harry and Meghan sit on her middle finger and ring finger, respectively.
In the video above, she constructed the royal couple using acrylic, nail polish, and fabric to shape their creepy and very tiny figures.
But the level of detail?! Downright flawless. Mini Meghan was given a rhinestone tiara, a bouquet, and even a lace veil, while Mini Harry even had his red beard like he wore IRL. The couple sat on top of a background of light blue nail polish, and had faces drawn on with blank stares.
I'm freaking out, guys.
Instagram@nail_sunny
So not terrifying, right?! That's definitely a unique way to relive their nuptials, but I only wonder what the new Duke and Duchess of Sussex will think of this commemorative manicure.
Source
http://cosmopolitan.com/style-beauty/beauty/a20885746/prince-harry-meghan-markle-royal-wedding-nail-art/